24.07.2020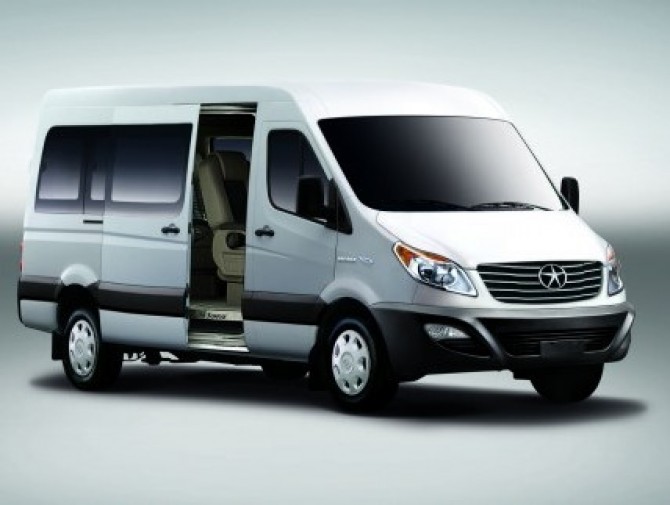 JAC Motors has received VTA certificates for the EAEU customs union for the new JAC Sunray model with van and minibus bodies. At the moment, the model is planned to enter the market of Kazakhstan, the possibility of starting Russian sales is still under consideration, the press service of "Jack Car" reported. All-metal cargo van N209 of category N1 with a gross weight of 3490 kg is certified with two wheelbases - 2960 mm and 3570 mm, and in three versions in length - 4900, 5650 and 5990 mm Low, medium and high roof modifications are also approved. VTA for the JAC M209 minibus includes versions with wheelbases of 3570 and 3580 mm and corresponding lengths of 5990 and 6000 mm.
The car allows a different layout of the cabin. Depending on the seating arrangement, the model can accommodate 9, 11, 13 or 15 passengers, not including the driver. JAC Sunray has a classic front engine and rear wheel drive layout. As a power plant it is used a 2.7-liter turbo diesel with a capacity of 150 hp and 355 Nm of torque, which works in conjunction with a 6-speed manual transmission. We will remind, earlier the JAC Motors Company announced the appearance in Russia of a new JAC J7 liftback, which is sold in China under the name A5.
In addition, an updated seven-seater off-road vehicle JAC S7 will appear in the Russian market this year, the production of which has been established in Kazakhstan at the SaryarkaAvtoProm plant. And the nearest novelty of the brand will be a compact electric car JAC iEV7S assembled in Kazakhstan, which is expected in our country in August. Recall that at present, JAC Motors passenger model line includes JAC S3 and JAC S5 crossovers in Russia, as well as JAC T6 pickup truck.
https://eng.autostat.ru/